Medigap is supplemental insurance.  Its purpose is to cover some of the costs that must be paid out-of-pocket in spite of Medicare coverage.  Though Medicare can significantly reduce medical bills, there are still certain costs that beneficiaries must pay.
Those that are looking to prepare for the future and lower Medicare costs should consider enrolling in Medigap.  There are ten different Medigap policies, each varying in coverage.  Each policy has a corresponding letter.
Medigap Plans A and B are an excellent option for those looking for a small amount of coverage.  These plans can lower some of the typical costs, but aren't the most extensive options available.  They don't provide any percentage coverage, so costs will either be completely covered or not paid for at all.
Medigap Plans C through G
This section of Medigap policies includes some of the most extensive coverage available.  Plans F and G have the highest amount of coverage available.  They also have a high-deductible option in some areas.
This group of plans covers 80% of foreign travel exchange, which is an excellent feature for those that are abroad frequently.  While this may not be very applicable for individuals that don't travel, it can provide significantly in the event of a medical emergency abroad.
Medigap Plans K through N
These plans are different from the rest in that they include percentage coverage.  For instance, Plan M covers 50% of the Medicare Part A deductible.  Understanding the percentage coverage structure is fundamental in selecting the right plan.  Taking note of the percentage offerings can be a helpful distinction between the plans.
Plans K and L do have an out-of-pocket limit.  This means that beneficiaries will know the most that they would need to pay within a year.  Many appreciate the security that this offers and take advantage of this option.
Differences between plans
Understanding the differences between Medigap options can be complicated.  If you're beginning the comparison process, take a look at your past Medicare bills.  If there was an area in which you paid a significant amount previously, you may be able to reduce those costs in the future by selecting the right Medigap policy.
While there are definite differences between the different Medigap policies available, there are also similarities.  For instance, all plans cover at least a portion of the Medicare Part B coinsurance.  Many Medigap policies have a common trend and they all exist to lower the amount beneficiaries owe when paying their medical bills.
Is Medigap right for you?
Enrolling in Medigap is an important decision.  For those that need regular medical care, supplemental insurance can provide significant financial relief.  Those that are concerned about what a medical event could mean for their bank account should consider if a Medigap policy is the right choice.
Medigap is only available for those enrolled in Original Medicare.  If you have Medicare Parts A and B and are looking to reduce your bills, give us a call.  Located at ​2 Amherst Road, Sunderland, Massachusetts, Dale Frank Financial is here for you.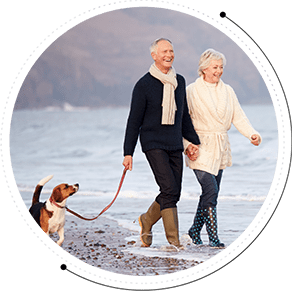 Ready to Take The Next Step?
For more information about any of our products and services, schedule a meeting today or register to attend a seminar.